The table of contents of the Big Book of MATCHBOX Models of Yesteryear 1956-72 (English translation)
Details about publication – overview in Czech language and small pictures of pages.
The photo-story: The book about MATCHBOX Models of Yesteryears goes to print – text also in English
This new publication combines the history and construction of models with their templates – real vintage vehicles. It even shows some actual cars that developers used while making mock-ups of Models of Yesteryear. The Big Book of MATCHBOX Models of Yesteryear 1956-72 also includes tables of issues and variations of common and rare Yesteryear models and their boxes. Its scope and depth of processing goes even further and deeper than the existing "White Bible," The Yesteryear Book – Millennium Edition, or the "Blue Bible," Collecting Matchbox Diecast Toys. This representative publication has 583 pages on high quality paper, hard cover with a partial special paint finish in and weighs almost 3 kilograms.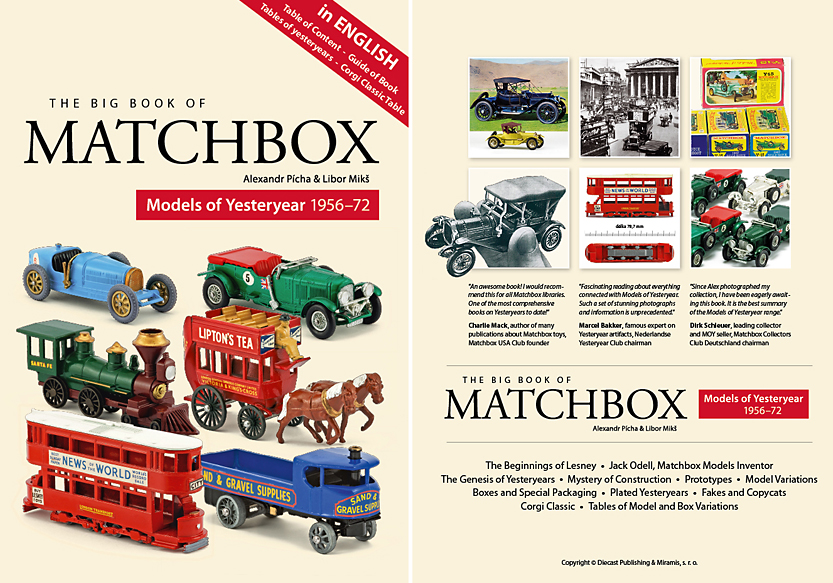 The front and back cover of the additional booklet in English reflects design of the book.
Authors Alexandr Pícha and Libor Mikš worked on the publication for more than 4 years and in its preparation were also involved experts and collectors from 3 continents. Esteemed collectors like the chairman of Matchbox Germany Club Dirk Schleuer, chairman of the Yesteryear club of the Netherlands Marcel Bakker and the founder of Matchbox Club USA Charlie Mack gave the book their seal of approval.

Basic features of the book "Velká kniha o modelech MATCHBOX Models of Yesteryear 1956-72"
– 583 pages on high quality paper
– 1700 studio photographs of models, boxes, catalogues, period advertisements and other collector's artifacts
– photos of the most important model issues (all color and main cast variations)
– photos of all MOY box types, also of all American packaging of all models, all gift sets and photos of most Lesney and Bronner display stands
– photos of dozens of preproduction models and color trials
– photos taken in world famous collections and provided by world respected collectors
– photos of copycats and fakes
– Lesney history with photos of important Early Lesney Toys and MOKO toys and models
– a short chapter about the Corgi Classic's competition with Models of Yesteryear
– text in Czech language
– hard cover
– weight: 2,85 kg
Additional booklet in English (comes only with the book)
– 38 pages on common "office" paper (29 x 21,7 cm)
– translation of a few parts of the book as follows:
– Foreword of the book
– Table of Contents
– Guide to Articles about Models and Boxes
– all tables of MOY issues (variations) of each model and its boxes
– table of 1960's Corgi Classic issues
Book availability

Czech Republic, Prague and Ostrava
Diecast model shop in shopping mall Černá Růže, Na Příkopě 12, Praha 1 – Můstek
2. floor, Opening hours: Monday-Saturday: 9:30-19:00; Sunday: 11:00-19:00
Diecast models shop K&K Modely; Tuklatská 3, Praha 10 – Strašnice
Opening hours: Monday-Friday: 9:00–19:00; Saturday: 9:00–12:00
Miramis Publishing office, Zenklova 1545/39, Praha 8 – Libeň, contact: info@diecast.cz
Libor Mikš office, Na Vizině 24, Ostrava, contact: Libor.Miks@centrum.cz

Our eShop: eshop.diecast.cz
Postage and packing rate for shipping in the Czech Republic: 4.00 EUR
Germany
MECA convention in Düsseldorf, March 31-April 1, 2012
The book will be also distributed by Dirk Schleuer, www.moyshop.de, Solingen.
International shipping
Please send your order on info@diecast.cz
Price calculation:
– the book: 60.00 EUR
– the booklet: 5.00 EUR
– postage rate: 20.00-30.00 EUR; exact rate will be based on the Czech Post Office calculator: http://kzas.ceskaposta.cz/eep_zkal/CountProduct.action
– payment method: PayPal account picha@seznam.cz
Time of delivery: within Europe about one week after payment
If you need any other information, please ask on info@diecast.cz.

Alexandr Pícha
Tel.: (+420) 602 273 303

DieCast.cz & Miramis, s. r. o.
Zenklova 1545/39
180 00 Praha 8
Czech Republic
www.diecast.cz